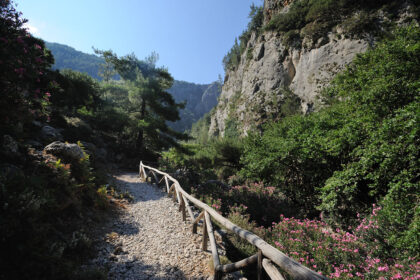 Agia Eirini Gorge is on the way to the seaside village of Sougia. Although it is less spectacular than Samaria Gorge, it is far less crowded but very beautiful.
The hike takes approximately 4 hours and can be done throughout the year. The path is improved and very easy to follow with plenty of shade. There are several resting places where you can relax and get water from the taps.
About 2 hours through Agia Eirini Gorge, the valley widens and you will see a sign pointing towards the left to a café stop. You can eat a snack there and then continue to Sougia. Keep in mind that after the hike inside the gorge, the las part till you reach Sougia will take 1½ to 2 hours.NOTOS offers you the Bus-Transfer from Paleochora directly to the entrance of the gorge every Tuesday, Thursday and Sunday at 7.30 a.m.
Contuct us for more info!