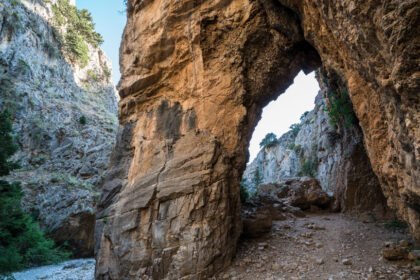 Imbros Gorge is 8 kilometers long and runs from Imbros village down to Komitades.
The walk starts gradually. The path requires walking on rock paths that are uneven so you need to wear trail shoes.
The scenery in spring is beautiful with wildflowers blooming throughout the gorge.
There are interesting rock formations, caves and narrow canyons.
The walk takes about 3 till 4 hours and you overcome a height difference of about 650 meters.
Imbros Gorge is not too crowded and if you are lucky, you can even meet wild Cretan goats.
A recommendation worth for all hikers in Crete is tο have enough water in your possession and wear hiking shoes.