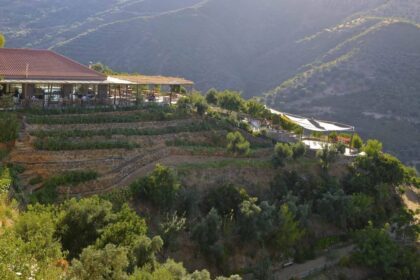 The Botanical Park of Crete is located 17 km south of Chania, in the village of Fournes. Twenty hectares of land full of flora from all over the world, herbs, medicinal and ornamental plants. A true oasis for hundreds of plants and animals in a huge park different from the others.
A pleasant walk to this unique landscape is all you need for relaxed holidays. There are plenty of places inside to rest, specially when the summer heat is up. In the area of the Botanical Park of Crete there is a huge variety of endemic Cretan and Mediterranean herbs. The place is full of aromas that will make your experience unforgettable. According to researches, Crete hosts one of the most varied and interesting ecosystems in the continent.
In the midst of this colorful and vivid landscape stands a burnt centennial olive tree, a memorial and a reference to the dismal fires of 2003.
After your walk, there is a restaurant at the top that serves organic fresh products outsourced from the garden itself. Apart from the food, you will be able to enjoy the breathtaking view of the Cretan landscape.
To get there, you should take the road to Omalos-Samaria. There are plenty of signposts along the way. The place is very easy to be reached by car, as well as there is a parking area at the entrance.
The Botanical Park of Crete is a perfect daily excursion for visitors of all ages which combines everything that Crete offers.