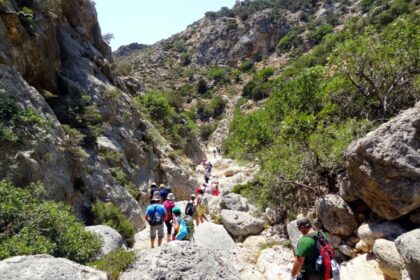 Anydri Gorge is a small impressive gorge located east of Paleochora. It starts from the homonym village ending up at the beautiful beach Gyaliskari.
NOTOS offers you the Bus-Transfer from Paleochora directly to the entrance of the gorge on Sundays.
Contact us for more info!
As soon as you arrive there, you can enjoy a quick refreshment at the local tavern. After that, the guided walk will guide you to an old church through Anydri Gorge. Please make sure that you always wear the appropriate hiking shoes.
After the 90-minute walk down to the beach, you will enjoy a lunch at the local canteen. If there is time you will be able to dive into the Libyan Sea. It is your decision, though, to walk back to Paleochora with the guides or stay longer and get back to the village independently.
In any case the walk back home will take about 60 minutes.