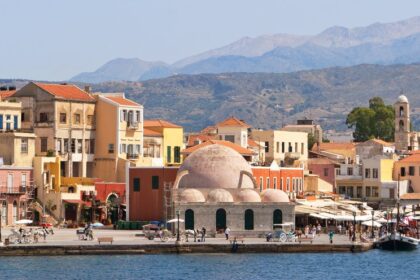 Discover top things to do in Chania, one of the most fascinating places in Crete. A perfect place for summer holidays that includes breathtaking beaches, imposing landscapes and friendly people. However, Chania is a remarkable town and worth a visit any time of the year. Below you will find some unique suggestions that will make your stay unforgettable!
A Walking Tour is the best way to explore Chania
A walking tour in Chania old town is the best way to explore every corner of this historical city.Chania Old Town Walks offers an authentic experience through a three-hour private tour accompanied by a local certified tour guide. The city's past from Minoan times to the Ottoman Turkish period comes alive. Explore the historical ruins, such as the Venetian townhouses, the restored synagogue, mosques, churches and much more hidden gems.
Chania Old Town Walks, Halidon Str 46, Chania +30 6937399300
Turkish Baths Chania, the ultimate experience
Experience the Turkish baths in Chania; the Al Hammam. See the harmonic co-existence of different traditional architectures: Venetian, Arabic and Ottoman. One of the most interesting elements of this puzzle is the old Ottoman Baths. The Hammams are leftovers of the Ottoman rule in the town. As one said, "A town is incomplete without a Hammam".
The old-world traditions are infused with modern day services. More specific, unlike Spas, Al Hammam is the only authentic Hammam with natural and organic treatments. Relaxation and peace of mind are experienced in harmony. The Hammam will cleanse your body in a heated, low mist room atop heated Venetian Marble tables. The specialists will exfoliate you and offer you an invigorating full body Gommage.
Al Hammam Venetian Old Harbor Square 14, Chania +30 2821059005
Crete Weaving; the textile heritage
The art of weaving in Crete has a long tradition, as also a remarkable production to date. Roka Carpets at Zambeliou Str is nested in a venerable Venetian house, where holding court is the master of weaving, Mihalis Manousakis. He was taught by his mother and grandmother, both of whom knew thousand pf patterns down from generation to generation.
Mihalis Manousakis is now the only man in Crete making a living at the loom, reproducing beautiful patterns from memory. People from all over the world order his hand-woven textiles colored with natural dyes. Furthermore, he was honored by the Greek Government for his offering of traditional backpacks as gifts for the VIPs at the 2002 Olympic Games.
Roka Carpets is considered as an international salon for visitors, a shrine to the art of weaving in Crete.
Roka Carpets, Zambeliou Str 61, Chania +30 28210 74736