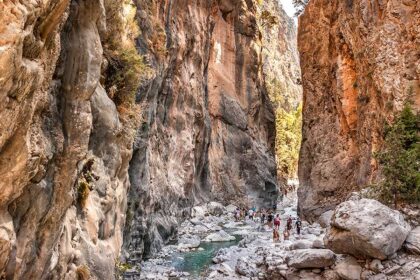 Samaria Gorge
Samaria Gorge is a National Park of Greece on the island of Crete. A major tourist attraction of the island and a World's Biosphere Reserve.
It was created by a small river running between the White Mountains (Lefka Ori) and Mountain Volakias. While some say the gorge is 18 km long, this distance refers to the distance between the settlement of Omalos and the village of Agia Roumeli. In fact, the gorge is 16 km long starting at an altitude of 1,250m and ending at the shores of the Libyan Sea. The walk through the National Park is 13 km long, but you have to walk another 3 km till Agia Roumeli.
The most famous part of the gorge is the stretch known as the "Iron Gates", where the sides of the gorge close in to a width of only 4 meters. The height reaches up to 1,000 feet. It became a national park in 1962, as a refuge for the rare Kri-Kri, the wild Cretan goat. This rare kind is largely restricted to the park and an island opposite to the shore of Agia Marina. There are several other endemic species in the gorge and the surrounding area, as well as unique flora and fauna.
Samaria Gorge is supervised by the Department of Forestry and it is generally open from the beginning of May till the end of October.
During winter, the park is closed due to the high water and the snow making it impassable. Even on summer rainy days the gorge is closed, in order to avoid any rock fall.
As a must destination in Crete, Samaria Gorge receives up to 3.000 visitors per day.
The best that you can do, is start your hike as earlier as you can and avoid the throng of people coming with the buses. The best time of the year is in the spring: the weather is still cool and the vegetation at its best.NOTOS offers you the Bus-Transfer from Paleochora directly to the entrance of the gorge every Tuesday, Thursday and Sunday at 7.30 a.m.
Contact us for more info!